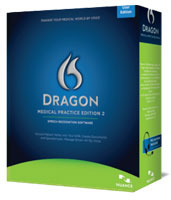 Dragon® Medical Practice Edition
Dragon Medical Voice Recognition software is the industry standard for accuracy and speed! We offer the second edition of Dragon Medical Practice Edition (DMPE).
Certified reseller for Dragon® Medical Practice Edition (MSRP $1599)
25+ years of experience implementing, integrating and supporting Dragon® products
Offers Dragon Medical Practice Edition training sessions for users
The TCEMR team includes a Family Physician and Health Information Technology professionals with a combined 25 years of Dragon Medical training. We understand today's clinical documentation challenges.
Dr. Kaniewski serves on the Nuance® Value-Added Reseller Board of Directors
Dragon® Medical Practice Edition-2 is the NEWEST version of Dragon speech recognition for medical professionals! Here's what you need to know about this revolutionary product:
Dragon Medical Practice Edition (DMPE-2) is based on the Dragon Medical 12.5 Speech Recognition Engine (version 12.5). The product line was rebranded to distinguish it clearly from the large enterprise editions of Dragon Medical and the non-medical editions ("Dragon NaturallySpeaking" )
DMPE-2 is 22% more accurate than DMPE-1, which was released in September 2011. It is 42% more accurate than 10.1! There are a number of nice new features, but SPEED and ACCURACY (the two things busy clinicians really care about) are the main improvements. Click here to learn more.
What is Dragon® Medical Practice Edition?
Dragon speech recognition is computer software that types what you dictate. It is the most widely used speech recognition solution to date, with more than 100,000 clinicians in the U.S. using it to document patient care.
Why are so many clinicians and practices using Dragon?
Dragon Medical Practice Edition allows healthcare professionals to create medical records, e-mail messages, and other documents faster and more efficiently, giving them more time for patient care.
DMPE's voice-to-text conversion is three times faster than the average person's typing speed. It also reduces clicking and typing, making EHRs (Windows®- or Citrix®-based EHRs) easier to use.
The software boasts up to 99% accuracy, as it includes a 10,000 word medical vocabulary and pre-configured vocabularies covering virtually all specialties. Users of the software agree that the accuracy with medical terms (medications, diagnoses, abbreviations etc.) is quite amazing.
Installation of the software can be customized for most English-speaking foreign accents. (British, Asian, East Indian, Pakistani, Spanish, Southern U.S., etc.)
DMPE is only intended for independent practices with 24 or fewer Physicians (PLUS other care providers such as PA's, NP's, chiropractors, psychologists, mental health therapists, nurse clinicians, physical therapists, dietitians, and more).
Other new features of Dragon Medical Practice Edition-2:
DMPE-2 is 60% more accurate than Dragon NaturallySpeaking (non-medical)
Compatible with Windows-10
Can switch between computers
Dragon Medical-Certified Microphones
For a catalog of our most popular microphones, please click here
Questions & Answers
Q: Where Can DMPE Type Your Notes?
A: Dragon can type your notes…
Into any word processor (e.g. Microsoft Word), creating a file that can be saved on your computer

Our "SavePrint" utility automates this process for busy clinicians.

Into almost any EHR software, as long as it has "Notes" sections where you can type
Q: Must I change my dictation style?
A: You can dictate quickly with the Dragon speech recognition software, but enunciation is important. There are many ways to maximize the software:
Use pre-built templates for common conditions, then dictate patient-specific details.
How are these templates created?
We supply a selection of complete templates that you can use
We can modify our templates to match your dictation style
In our classes, we teach you how to modify our templates, and how to create your own from scratch. It's really quite easy.
"Select and Say" allows you to make corrections by voice, and the Dragon voice recognition software learns from this training so that it becomes progressively more accurate and faster.
You see the note being created before your eyes, so editing is easy. All editing can be done by voice without touching the keyboard.
As an alternative, you can dictate using a digital recorder. Your transcriptionist then uses DMPE as "first pass" transcription, allowing them to become even more efficient and accurate. The "correctionist" can hear your dictation and make edits on the screen, which also increases the accuracy of Dragon with subsequent use.
Q: Where can I get Dragon® Medical Practice Edition?
A: You can purchase the software from us. More importantly, we can provide you with documentation workflow analysis, installation services, training, customization, and ongoing support to minimize your learning curve and maximize your success.
Q: Can't I just train myself?
A: 99% of clinicians who are using Dragon Medical without professional training are just scratching the surface of this product's capabilities. With our 25+ years of combined Dragon Medical training experience, we can MAXIMIZE your productivity and MINIMIZE your learning curve.
Q: Our office is outside of Minneapolis. Can you still help us?
A: We would be happy to! We can do installation, one-on-one personalized training, and support, all remotely via computer. We can even travel to your location for on-site classes (1-6 students per class). We can provide services throughout the 50 states.
** "Dragon® Medical Practice Edition" and "Dragon Naturally Speaking" are registered and owned by Nuance Communications, Inc.